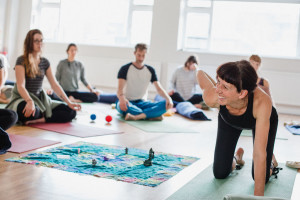 Sunday 16 June, 2-5pm
Brighton Natural Health Centre
Poor posture, breathing and emotional stress can all be contributing factors to poor back health and the dis-ease that comes from this.
In this afternoon of yoga and Thai Massage, we will explore the continuum through muscles, bones and fascia through the back of the body as well as looking at how the support we create from the ground up and through the front of the body can make such a difference to how we sit, stand, move and feel.
We will use support and props to increase our awareness of how the spine moves (and where it doesn't) in order to improve mobility, structural support and strength. There will also be some accessible shared Thai massage techniques to share with friends and family to promote long-term back health and even help prevent avoidable back issues.
Senior Vajrasati teacher Leonie's unique workshops are hugely popular, combining thoughtful, intelligent yoga enquiry with shared Thai massage practises that will leave you feeling grounded, embodied and more connected to the natural fluidity inherent in the body and mind.
Price: £30 | Accessible to all bodies, all levels of experience.