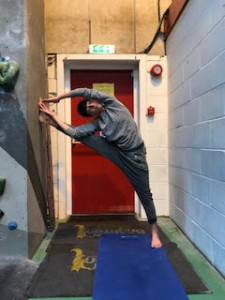 Warm ups, Thai yoga massage tasters and partner yoga session
I will be on hand during the Boulder Brighton FIVE event, an exciting day of competitions, to help with warm-ups, thai yoga massage tasters and a partner yoga session before the finals.
Comp yoga warm-ups
13:15-13:45 Open Comp warm up
14:15-14.45 Fun Comp warm up
Fun, fast-flowing, strengthening yoga sessions to prepare body and mind for the comps, we'll look at ways to warm up muscles, open the joints and explore balance (adaptable for all levels of experience, every body welcome).
Upstairs in the yoga room
Thai yoga massage
17:00-18:00 Shoulder & foot Thai Yoga massage clinic
10mins slots, downstairs by Traverse, book on the day
Partner Yoga & Massage Session
18:00-19:00 Partner Yoga & Massage Session
The perfect warm down after the comp! Stretch out and relax together, learn some simple and accessible yoga and massage techniques to use after climbing with friends.
Upstairs in the yoga room
Book your slot/spot for any of the yoga/massage sessions, email leonie@centredspace.net.
All Yoga & Massage sessions will be run on a donation basis, collecting for the Dorset Bolt Fund, a volunteer run organisation that maintains the safety equipment in our local sea crags (https://dorsetboltfund.co.uk/)