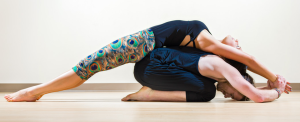 March 18, 2-4.30pm, Brighton Natural Health Centre.
A whole afternoon exploring in detail the inner workings of our hips. Through explorative yoga asanas and shared Thai Massage techniques, this workshop will deepen your understanding of how your hips work as well as how their health and mobility is inextricably linked to the rest of the body. Whether you're super flexible and 'don't feel much' in hip openers or your hips feel stiff and immobile, we will explore a full range of movements that will enlighten your practise.
These unique workshops are hugely popular, combining thoughtful, intelligent yoga enquiry with shared Thai massage practises that will leave you feeling grounded, embodied and more connected to the natural fluidity inherent in the body and mind.