One-to-one yoga in your own home.
Private group yoga (for private or business groups)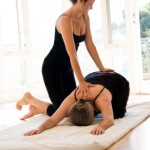 I have several clients who I visit on a one-to-one basis, so that sessions can be individually tailored to exactly meet their evolving needs. This can be particulary useful if you have specific physical or emotional issues, time constraints which don't allow you to make it to class or if you simply want to deepen your practice with personal guidance.
'Leonie listens and reads where you are at (perfectly) and then she somehow takes you on a rejuvenating and therapeutic yogic journey to a place of calm, warmth and inner peace where all is connected and where you find what you need in that moment to be perfectly content. She takes you to a harmonious coming together of body, mind, spirit where acceptance, truth and love reside.' Alexandra Hughes
Cost: £40/hour.
Similarly, if you have a friendship or family group, or would like me to teach at your business, private group tuition can be tailored specifically to meet the requirements of the group.
Call Leonie on 0780 907 5602