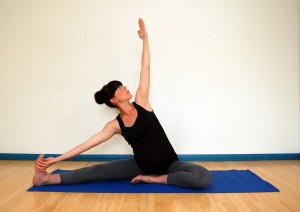 March 14, 1.30-5pm
About Balance

This is a workshop aimed specifically at yoga teachers and trainees who wish to competently and safely accommodate pregnant women in their yoga drop-ins.
During this workshop, we will cover:
• A basic understanding of pregnancy and the changing pregnant body.
• When is is 'safe' to teach pregnant women in a drop-in (and when should you refer to a specialist)?
• Some common contraindications for pregnant women
• How to support pregnant women in the context of a drop-in, useful props and simple adaptations.
• How to benefit your whole class with some 'pregnancy friendly' techniques.
We will also cover some similar points applicable to women returning to general drop-ins post-natally.
You will receive a hand-out but it is advised that you also bring note-taking equipment. This will be practical as well as theory based with plenty of time for questions.
Cost £40 per person; 20% off (£32) with Karma card or for Vajrasati teachers and Trainees. Email to book
Testimonial from previous workshop:
Pre and Post Natal Teacher Training Workshop
"What a useful workshop to attend!
As a cover teacher and teacher of drop in classes I regularly get students who attend my classes in the first and second trimesters of pregnancy. Since attending Leonie's workshop I am able to teach these students confidently and safely ensuring they and (their baby) are nourished by their practice during this special time
Leonie really brought the subject of pre and post natal yoga teaching to life for me, by sharing her extensive experience of teaching pregnancy yoga in a way that was accessible and clearly had practical applications for my classes
I would recommend this course, not just to those who want to be able to offer classes to pre or post natal students, but anyone who wants to learn more about the human body and the principles that underpin excellent yoga teaching in general"
Alistair McCall, Vajrasati 500hr+ Yoga teacher