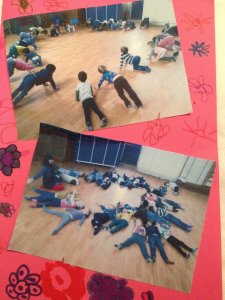 Yoga and mindfulness in school has been proven through numerous international studies to improve perceived student and teacher wellbeing, as well as having measurable positive effects on focus, attention and achievement.
I have successfully delivered 6-week modules and after school yoga club for KS1 and 2 at St Luke's Primary School in Brighton.
I also deliver an annual week-long enrichment programme of mindful yoga for Year 7-9 at Varndean School, Brighton.
Feedback from Yoga & Mindfulness Enrichment Week at Varndean School, Brighton, June 2016 & 2017:
'I have been practising body scan meditation at home when I feel stressed or cross with my brother and it has helped me to calm down and not get into fights.' Marissa
'I practised walking meditation in my room and it has helped me focus before doing my homework.' Cecily
'I do savasana before I go to bed now and it stops me staying awake feeling stressed.' Elizabeth
Feedback from yoga classes at St Luke's Primary school, Brighton:
'Leonie, thanks so much for the yoga. My daughter was making up a song on the way home about her upper and lower brain. And she showed me the bumble bee breath too.' Kath
'Heath loved his yoga classes and tries to practise his stretches. He has asked me when he will be doing more' yoga and breathing' I know he benefited from the classes and saw first hand how much it helped him.' Sian
'Romany hadn't shown interest in yoga before but really got into it after your classes, coming home from school keen to show us what she'd learnt. Since the yoga lessons she has been taking deep breaths to calm herself down when getting upset. She also seems more aware of her senses and feelings.' Anne
Please email leonie@centredspace.net to discuss yoga provision within school or as part of your enrichment programme.