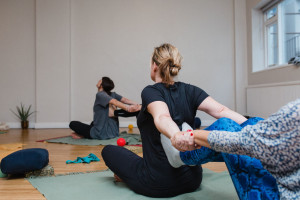 Yoga & Thai Massage Workshop
4 February, 2-5pm
Brighton Natural Health Centre
BOOK HERE £30 or £50 for 2 booking together
'Prana' is our life force and 'ayama' is expansion. In this revitalising workshop we will explore simple and effective Pranayama, breathing, exercises as well as breathing with movement in yoga asana, to reconnect to vitality and greater energy. Breathing fully optimises our body's ability to self regulate through different states of being, so can also profoundly effect our mental as much as our physical wellness.
We will also practise some wonderful Thai Massage techniques to unlock the thoracic diaphragm and promote more fluidity in breath, body and mind.
Senior Vajrasati teacher Leonie's unique workshops are hugely popular, combining thoughtful, intelligent yoga enquiry with shared Thai massage practises that will leave you feeling grounded, embodied and more connected to the natural fluidity inherent in the body and mind. Suitable for all body types, come with a friend or by yourself.