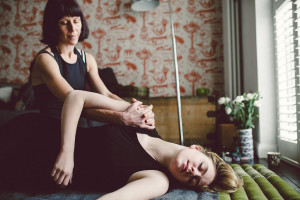 I am a Senior Yoga Teacher within the Vajrasati school of yoga, accredited with Yoga Alliance 500-hour Teacher Training Plus, with a decade of teaching experience. I have been practicing yoga since 1996. I have four yoga babies and have practised and taught throughout my own pregnancies.
I teach because I am passionate about how yoga can make you feel; more at ease with yourself physically and emotionally, more connected and aware of yourself and others. Vajrasati yoga is not prescriptive, much more about your own personal journey inwards than on externals; it's of no importance whether you can make a shape or touch your toes!
Inspired by a desire to work deeply and therapeutically with energy in both classes, workshops and 1-2-1s, I have also taken my Thai Yoga Massage Practitioner Diploma with Jungle Healing (accredited through the Sunshine Network and the Complementary Medical Association), as well as a specialist course in Side Position, which is particularly appropriate for pregnant women, those with lower back issues and recovering from trauma. I have also completed training with The London Institute of Thai Massage on the making and use of Thai Herbal Compresses which I love to use in treatments.
Training:
Vajrasati Teacher Training Plus, 500 RYT, 2006-2008; Senior teacher 2016. Bi-annual CPDs with Jim Tarran.
Ante & Post-Natal yoga(Birthlight Diploma in PeriNatal and Post natal yoga, 2007)
The Female Pelvis (2009)
Post-Natal & Peri-menopausal yoga, and Menopausal yoga, with Uma Dinsmore-Tulli, 2017
Thai Yoga Massage Practitioner course, Jungle Healing, Sunshine Network2017
Thai Yoga Massage Side Position Practitioner Course, Jungle Healing, Sunshine Network, 2017
Thai Herbal Compress course, London Institute of Thai Massage, 2019
I am fully insured.
I am passionate about yoga in a holistic sense: the relationship between asana, mantra, pranayama and meditation (body, mind, breath and sound) practice on the mat and developing a deeper sense of connection, centre and space beyond.
Yoga, in this sense, informs the way I try to lead my life, parent my children and respond to the world; with open awareness, ease, generosity, acceptance and non-judgement.
Before I taught yoga, I worked as an editor in women's magazines, and have written articles on conscious parenting and yoga for various magazines and websites such as Red, ELLE and The Guardian.