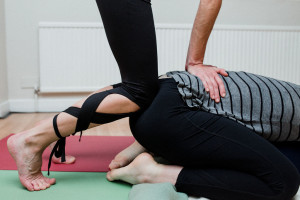 Yoga & Thai Yoga Massage workshopApril 27, 2-6pm, Energy for Life, 75 Sussex St, Brighton BN2 0HL
An afternoon of grounding meditation, mantra and opening, slow-flowing and deep yoga asana practise to prepare body and mind to settle into the breath. Explore pranayama breathing techniques to invigorate and cleanse the system of tension and stagnant energy, and then luxuriate in a deeply relaxing yoga nidra to stir, awaken and reconnect you to your creative and positive intentions for yourself.
Then, open, spacious and receptive, share guided Thai Yoga massage techniques to work with the energy and physical body to further deepen your practise and expand into a more conscious and connective state of being. You will have the opportunity to both give and receive a massage, through guided demonstration.
You will learn to dance from the heart, to trust and flow with your intuition!
Leonie Taylor is a Senior Yoga Teacher and Mentor within the Vajrasati school of yoga, accredited with Yoga Alliance 500-hour Teacher Training Plus, with over a decade of teaching experience. Leonie also studied Thai Yoga Massage with Marek.
Leonie is known for her deeply nourishing and nurturing classes and 1-2-1 work and works intuitively with the individual to connect and allow deep release. See www.centredspace.net for more details
Cost: £40 per person or £75 if you book with a friend/family member/partner etc. Call 0780 9075602 or email to book.