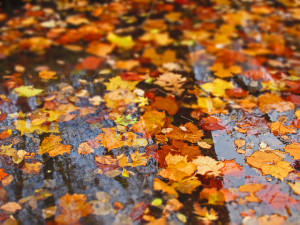 This morning we awoke to the sound of rain, the clouds obscuring the light of yesterday's sunshine.
This shift in the weather is the perfect way to start the day, an invitation, a reminder from nature to experience what is now. Michele McDonald developed RAIN as an acronym for a simple mindfulness practice 20 years ago:
Recognize what is going on;
Allow the experience to be there, just as it is;
Investigate with kindness;
Natural awareness, which comes from not identifying with the experience.
So, what is your experience right now?
Sit comfortably, either cross-legged or kneeling on the floor or a chair with your knees, ankles and hips aligned. Feel your sitting bones (you can manually take the buttock flesh out and back to ground yourself) and notice your spine. Allow your body to feel its way intuitively into sitting a little more symmetrically, more upright, so that the body invites the breath to naturally flow.
Notice any physical or emotional sensations as they arise and pass through the body mind. You may become distracted by these feelings or thoughts, you may notice internal dialogue. Each time this happens, just notice that and bring your focus back to the breath. The physical sensation or the emotion is not suppressed but you also don't need to become caught up in it. Just as you watch the rain, you cannot hold on to a particular raindrop, each experience comes and goes.
No single raindrop is the rain.
No single experience, thought, sensation is 'you'.
You don't need to label the experience as 'good' or 'bad', 'desirable' or 'undesirable'. You are not 'succeeding' in your practice if you remain focussed or 'failing' if you are distracted.
This is the same as if you were practising what you perceive to be a challenging pose in a yoga class. I often come across this, for instance, teaching students inversions. Many people encounter fear, old stories of inadequacy, anxiety about falling, failing… The more they become caught up in 'thinking' and either deciding not to try or caught up in the trying itself, the less likely it is they will ever come into the headstand.
In Patanjali's Yoga Sutras, the aphorism that we often come to is:
"Prayatna shaitilya ananta samapatthibhyam"(II:47)
"Perfection in an asana is achieved when the effort to perform it becomes effortless and the infinite being within is reached."
B.K.S. Iyengar
When we calm the mind, sensitively, intelligently and spaciously explore a pose, and, most importantly, let go of our expectations to reach a defined point we perceive as a goal, then our bodies are more likely, with time and practise, to open into the physicality of the postures. This attitude is inherently generous and kind, gradually revealing the nuances in the body.
It is the same when we are pregnant and preparing for birth: many women I encounter get caught up either in fear or in the need to control the outcome of their birth. Either of these mental states takes them away from the actual experience of their pregnancy or birth. In scientific terms, the focussing of activity in the logical, linear left brain, leads the woman to becoming disintegrated, where she needs to fall into a space of intuition, trust and connection with the primal part of her brain that effects natural chemical and physical responses that correspond with the progress of birth. Caught up in her thinking brain, there will be more associated stress, often reflected in more shallow breathing, her muscles will tighten and become more adrenal without enough oxygen and her birth will literally be 'held' by the brain.
In both these physical scenarios, as with the attitude we may take to the rain, if we can Recognize the anxiety, any negative projections that arise (suffering, 'dukkha', we cause ourselves – we are the only known mammals to do this! – by imaging outcomes in the future based on current events); Allow ourselves to settle, physically, mentally and with the breath into what is right now; Investigate these sensations with space, intuition, without getting caught back in the cycle of projection and judgement; opening ourselves to Natural awareness – we are not attached to or defined by the experience.
As the weather constantly shifts, so do we, everything that we 'are' is realigning, moving, beyond 'control'. In these moments of awareness we are free.
Enjoy the rain!